10 meals a minute. 631 meals an hour. Here at FareShare Yorkshire we have hit a mammoth milestone.
When the first national lockdown began we set up an emergency plan to continue our operations no matter the challenges ahead. Since then we have had the privilege to support over 450 Community Food Members across Yorkshire with enough food for up to 10 million meals.
Right from the first days of the Covid-19 pandemic, we faced some enormous obstacles that we had never seen before in 22 years of operation. Consumer panic buying lead to less surplus in the spring and summer of 2020. Brexit compounded ongoing disruption to the country's routine and manifested in all kinds of new challenges. Volunteer shortages, charity closures, head count limits in our warehouses, mandatory time outs in our chillers and freezers, frequent staff absences, daily supply delays and the need to adapt quickly with everchanging safety controls were just some of the main pressures we faced and weathered.
We were incredibly fortunate to be inundated with hundreds of offers of support from people right across the county, most of which we were simply unable to accept due to social distancing controls to keep all concerned safe.
It was a common occurrence for people to step in at the last minute (quite literally) to help out in the warehouse or take the wheel of one of our vehicles. Countless cages, pallets, trays, boxes, trolleys, cases, sacks and packs have been prepared, inspected, logged, stored, picked, packed and delivered by genuine heroes who've quietly undertaken their vital work, day in and day out, often behind the scenes.
Our Barnsley and Leeds-based teams have endured the last 22 months with a relentless spirit of determination and comradeship. More and more companies have lent us their support with surplus or donated food, monetary donations and equipment.
Due to the sustained rise in need among frontline organisations, FareShare Yorkshire decided to innovate quite heavily in the face of this and so in March 2021, we introduced Yorkshire Storage Hub.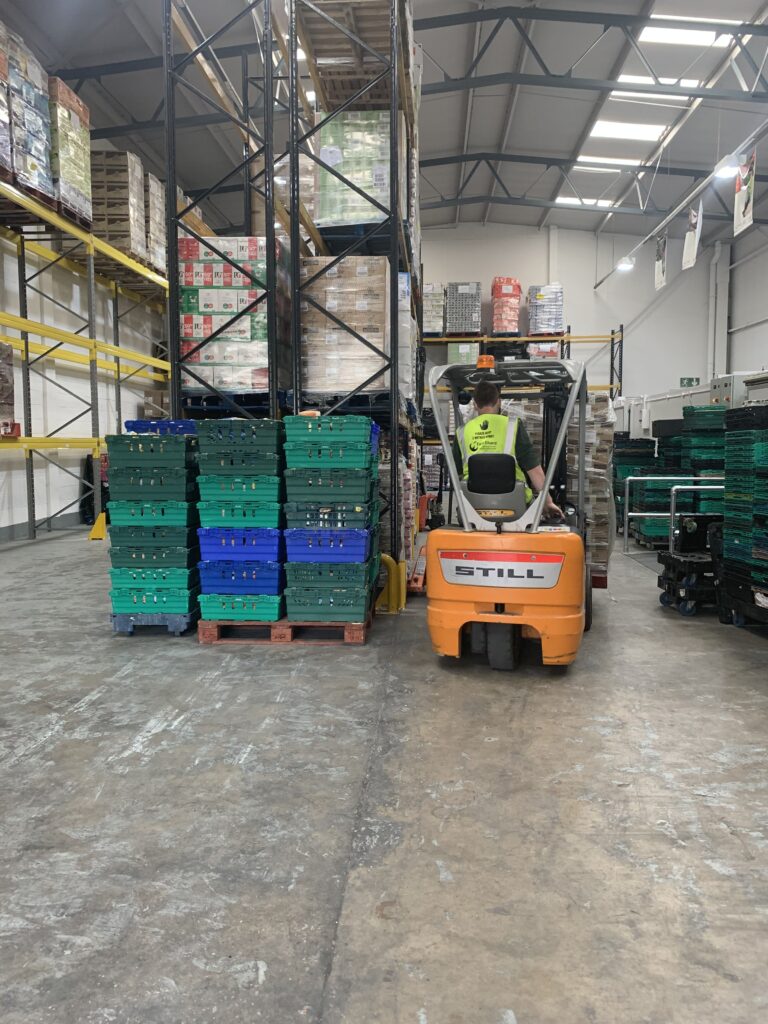 This expansion to two centres of operation in Leeds (one Holbeck, one Beeston) would not only double our racking space to accept and store longer-dated ambient bulk stock, but was the beginning of our brand new frozen provision, complete with walk in freezers and our first ever freezer van.
This new initiative – which marks one year of delivery in a few weeks' time – has given us the ability to provide a larger variety of surplus food through an additional membership. To date over 70 Community Food Members have begun to utilise frozen surplus as a result, including high value protein, produce and carbohydrates.
This took us from providing one tonne of frozen food per month to one tonne per day, such was the level of interest and benefits enjoyed among the frontline charities we serve.
We simply could not have continued operations without the tireless support of so many people. A huge thank you to everyone for their continued support as we approach 11 million meals and counting.
If you would like to support our work, please consider donating via our Local Giving page.
£1 goes towards 5 meals.
£10 goes towards 50 meals.
£25 goes towards 125 meals.
To donate, click here.