Our Award-Winning Training Programme
As a result of grant funding, we can train unemployed people in both our Barnsley and Leeds warehouses. Over an 8-week period we provide on-the-job experience in a food logistics operation and accredited Forklift truck training in a Gold Standard warehouse.
A dedicated mentor is provided to help people gain the confidence, skills, qualifications and experience they need to drastically improve their prospects of securing paid work.
We support people to overcome any barriers they are facing when it comes to moving into work as well as helping with soft skills such as timekeeping, language, personal hygiene and team-working.
We Provide:
Training in Manual Handling, Health and Safety and Food Hygiene
Forklift truck training with a theory and practical test so people can achieve recognised qualifications in operating Counterbalance and Reach trucks
Brand new PPE such as a high-visibility jacket, safety boots and gloves
The opportunity to provide food for tens of thousands of people in need at Yorkshire's largest food charity.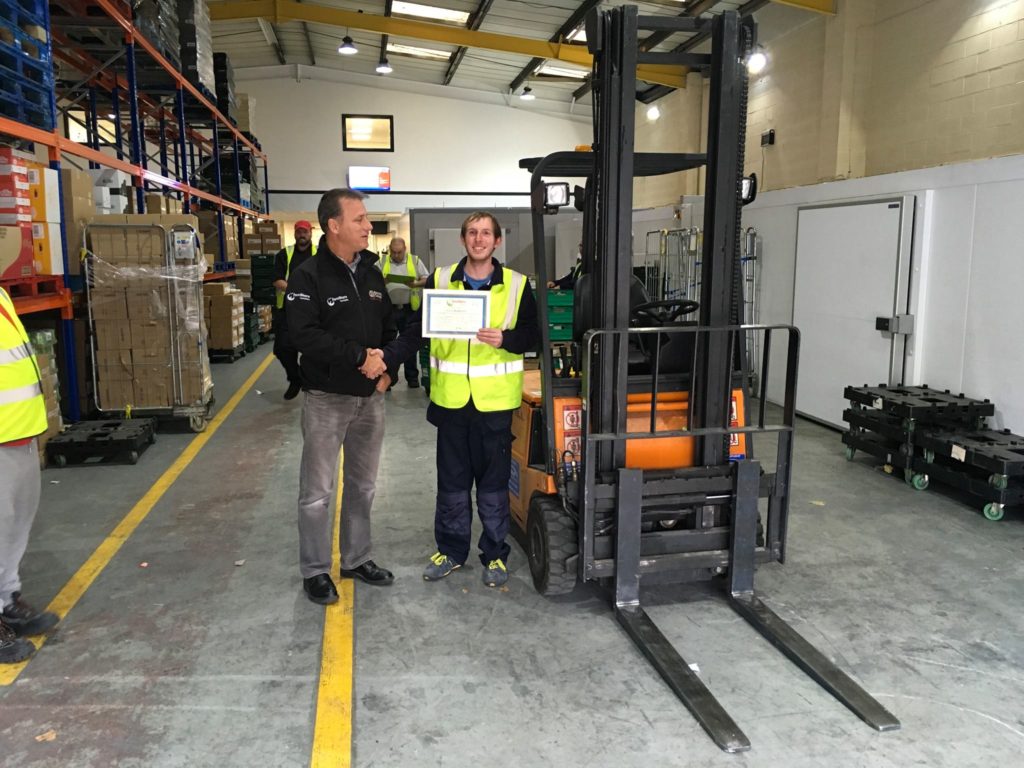 "The Employability project in Barnsley is a fantastic resource for people of all ages to gain skills to help them gain employment and confidence. 

At Royal Mencap we have referred people to the course that will gain the skills and confidence that they desperately lack to help them move forward into employment. 

Having the resource at FareShare Yorkshire that builds their skills further in an initially smaller and calmer environment is amazing. They gain the warehouse experience needed and the opportunity to gain their fork lift licences gives them a massive jumpstart into the employment market. These young people have only been on the course for a short period of time, but you can already see how much the course has changed them for the good. They seem to have developed confidence and optimism within themselves."

Rebbecca Burrell, Employment Facilitator at Royal Mencap
Next Steps
For anyone who is looking improve their job prospects and would be committed to completing this programme you would need to:
1)      Attend an induction where you will receive certificates in manual handling and food hygiene.
2)      Help us to understand your ambitions and any barriers to employment so we can do our utmost to help.
3)      Sit down with us at the end of the programme to get your feedback.
4)      Commit to attending 3 full days a week for at least 8 weeks, display good behaviour and act safely.
To find out more about this opportunity please contact Mark Hague our Training Manager: markhague@fareshareyorkshire.org