Our volunteers play a huge part in our operations here at FareShare Yorkshire.  They donate their time, experience and hard work to ensure everything runs smoothly and people get fed.  From picking and packing to rotating stock and making deliveries to the frontline … our volunteers make such a big difference, it's hard to even explain. Needless to say, both in the warehouse and out on the vans, our volunteers are 'hidden heroes' serving over 30,000 vulnerable people a week.
High-vis and boots in tow, Georgina, our Development Support here at FareShare Barnsley, has stepped into the warehouse to spend a day with one award-winning volunteer to take a look at what the role involves.
Lee comes to our warehouse almost every day and is currently one of the longest serving members of the team.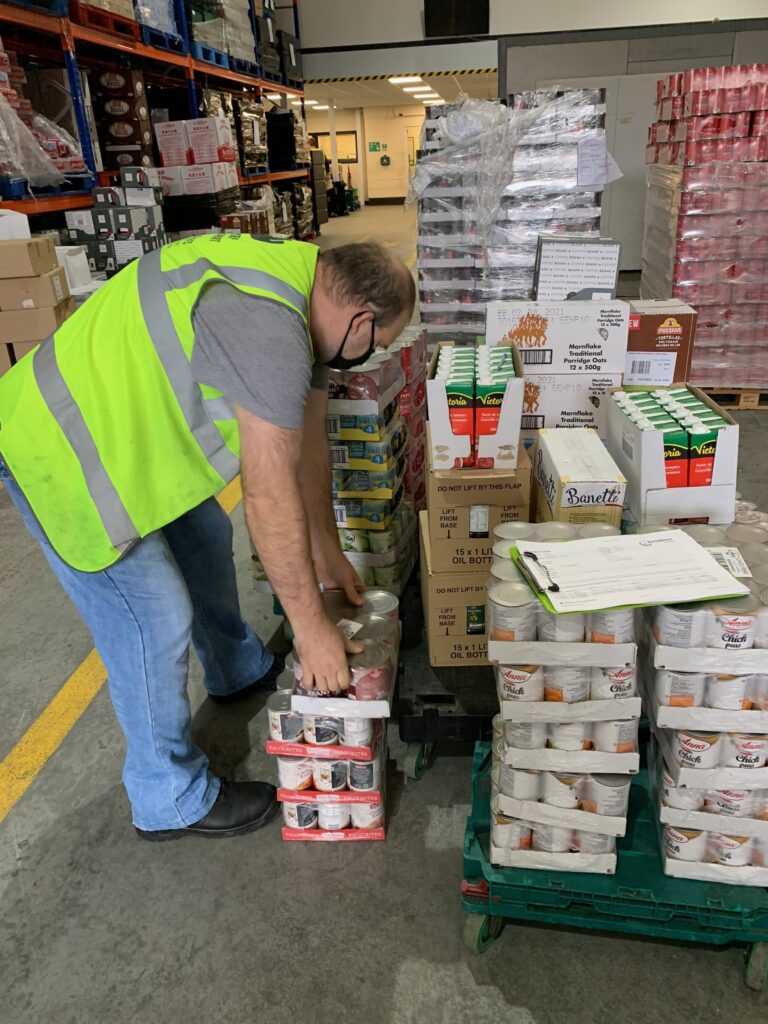 At 9am the vehicles begin to pull into the loading bay. The volunteers assist in loading the vans which contain today's deliveries for dozens of charities and community organisations called 'Community Food Members'. There's also empty bread trays, milk trollies and crates to load onto the lorry.
Towers of crates are loaded onto the vans while the volunteer driver completes a range of safety checks before setting off. A clipboard of dispatch notes is handed over to the driver, ready to give to each Community Food Member (CFM) as a receipt of their order.
As the drivers leave one by one, the volunteers start sorting through the latest deliveries of surplus food ready for collections later in the day. I followed Lee as he began going through the list and palletised the items, ready to be shrink-wrapped and put aside.
When the dispatch notes are printed, a copy is sent to the CFM with their order and a copy is kept on file in the warehouse. The notes include everything needed for good compliance and any extension notices from manufacturers who authorise more life for their goods.
After a busy morning of unloading deliveries and logging each product line, it was break time for the volunteers. During this time, the next day's dispatch notes were being sorted in the Operations Office and sent to the printer upstairs. Together with Richard, another of our longest-serving volunteers, Lee collected the dispatch notes and sat down to put them all together.
As they finished this task, a van arrived ready to collect some items for two projects. Lee supported a handful of other volunteers to find the right order, all while remaining socially distanced. Richard took charge of the forklift, lifting the pallet onto the back of the van while Lee ensured the load was stable.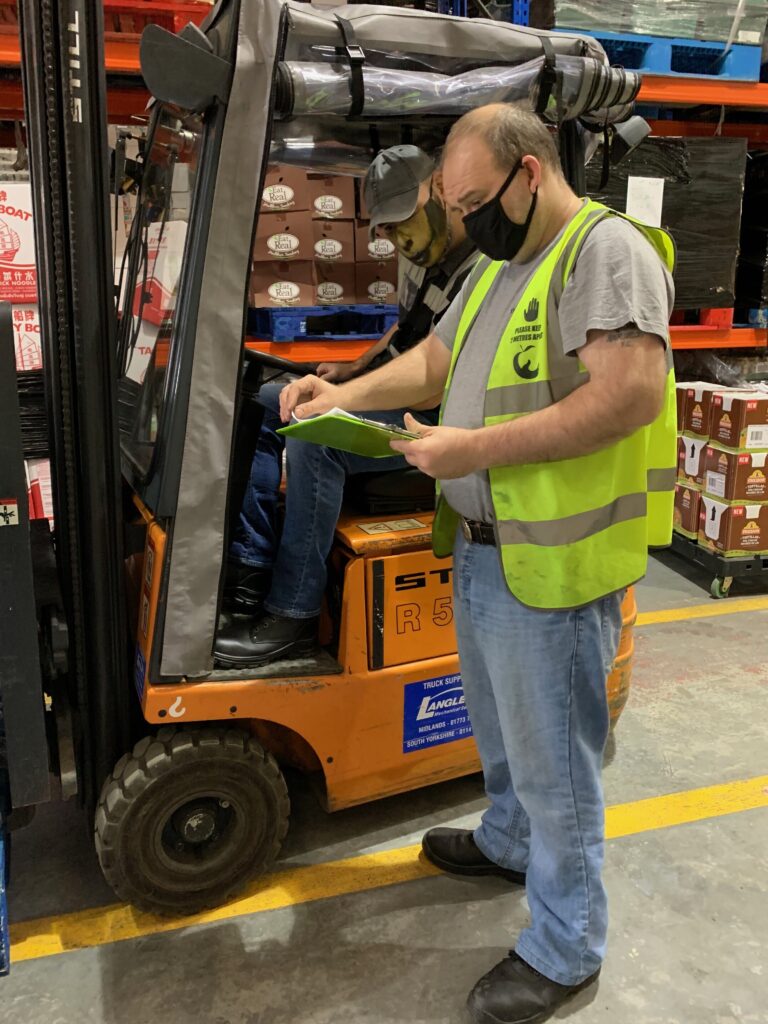 With goods-in complete for the day, all the volunteers chip-in with housekeeping tasks. Mopping, sweeping and sorting through trays are just a few of the jobs they get stuck into, enabling the operation to run just as smoothly as it did before March when volumes were about half the level they are now.
At one point, Lee was collecting piles of cardboard and ensuring they went into different cages ready for our food partners to collect and recycle before tidying the pathway down the centre of the warehouse to avoid trips and slips.
After a hearty lunch served by Chris, Project Manager of the FullCrumb Kitchen upstairs, the afternoon consisted of picking and packing orders for the following morning. At around 4pm, the last of these had been put into the chiller overnight, grouped depending on which van they would hitch a ride on, and the volunteers were ready to go home.
Covid-19 has very clearly had a huge impact on how FareShare Yorkshire operates. Most days are very full-on and there is very little free time. Just by watching how the volunteers work, it's very clear that they really enjoy what they are doing and that their work makes such a difference. We are so grateful for our volunteers and wouldn't be where we are without them. It was brilliant to be able to get an insight into the vital role they play, serving many thousands of people in need whom they will never meet but who need them more than ever before.
If you are interested in volunteering and would like more information on how to get involved, please email markhague@fareshareyorkshire.org