We are now one month into our Kickstart programme and the current trainees have already completed their inductions and begun their training on the warehouse floor.
The Kickstart scheme is taking place in our Barnsley and Leeds Regional Centres in 6-month blocks, giving trainees a huge insight into work life using training, hands-on experience and courses.
Mark, our Head of Employabiluty & Volunteering and Chris, Project Manager for The FullCrumb Kitchen are leading the programme and our trainees are already getting stuck in with daily warehouse tasks.  The scheme boosts their employability, with the hope they will go into sustained long-term employment once they complete the scheme.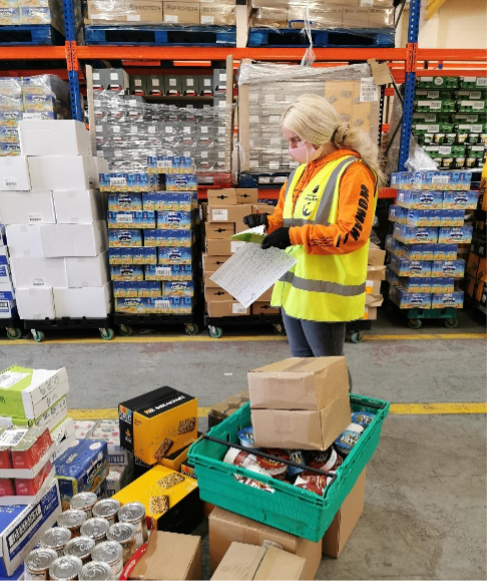 Keeley and Josh, who are completing the course in Barnsley, are already thoroughly enjoying it. Keeley said:
"I've really enjoyed it so far at FareShare Yorkshire. I have 2 small children at home and I was looking to get back into work again. The Kickstart opportunity has made that a reality for me. It has been really easy getting back into work mode and I have picked up the training straight away. I really enjoyed the Food Hygiene course too!"
Josh, who began as a volunteer at FareShare Yorkshire, thinks the course is already improving his confidence:
"Joining the Kickstart programme has given me a big boost to my confidence," he said, "it all feels a bit weird, but I am really enjoying it. The training is really informative too."
The trainees have already proven their determination towards the course and have given some fantastic feedback. Mark, who manages our volunteers as well as the warehouse training side of FareShare Yorkshire, said:
"They have settled in really well and it is so satisfying to be able to give young people the chance to have paid work whilst at the same time gaining new skills and training to help enhance their future work prospects. Our Kickstart programme is off to a fantastic start."
Chris, who has now been with FareShare Yorkshire for over a year, says the commitment from the trainees is already shining through.
"It has been great to get the Kickstart trainees underway," he said, "delivering the inductions and Level 2 Hygiene course has been a fantastic starter for the trainees, it's amazing to see their commitment early on and I can't wait to get them into the kitchen to put into practice what they have learned from the course. Who knows, it might even inspire them to seek careers in the catering and hospitality industry."
Jonathan Williams, Head of Development at FareShare Yorkshire said:
"FareShare Yorkshire will be supporting the pandemic recovery for a long time to come and so having the support of trainees will help us continue at a larger scale than we could pre-pandemic. We want people to use our regional centres as a stepping-stone to a better life and our whole team is passionate about developing people's skills, experience and confidence.
Each of our KickStarters will benefit from a range of accredited and on-the-job skills in a gold standard warehouse, including two kinds of ITSSAR-accredited forklift permit and goods management. At the same time they will join us in supporting hundreds of vital frontline organisations with the food they need to thrive.
If you would like more information with regards to our volunteering opportunities or training in the FullCrumb Kitchen, please give us a call on 01226 213 255 or email [email protected]