Wooden spoons, saucepans and ingredients at the ready, our very own Chris in The FullCrumb Kitchen invited the lovely Julie from Holbeck Together for a Friday cook-along.
The cook-along livestreams began a few months ago, when Chris decided he wanted to utilise the social media side of the kitchen. His popular YouTube, Instagram and Facebook channels are filled with inspiring recipes and tips for cooking, prepping and even eating! The livestreams are then posted onto the social media channels afterwards.
As Coronavirus restrictions began to ease, Chris was able to begin reaching out to our community food members, asking if they would be a part of a 'cook-along' livestream. Julie, from Holbeck Together, has been the first to get involved.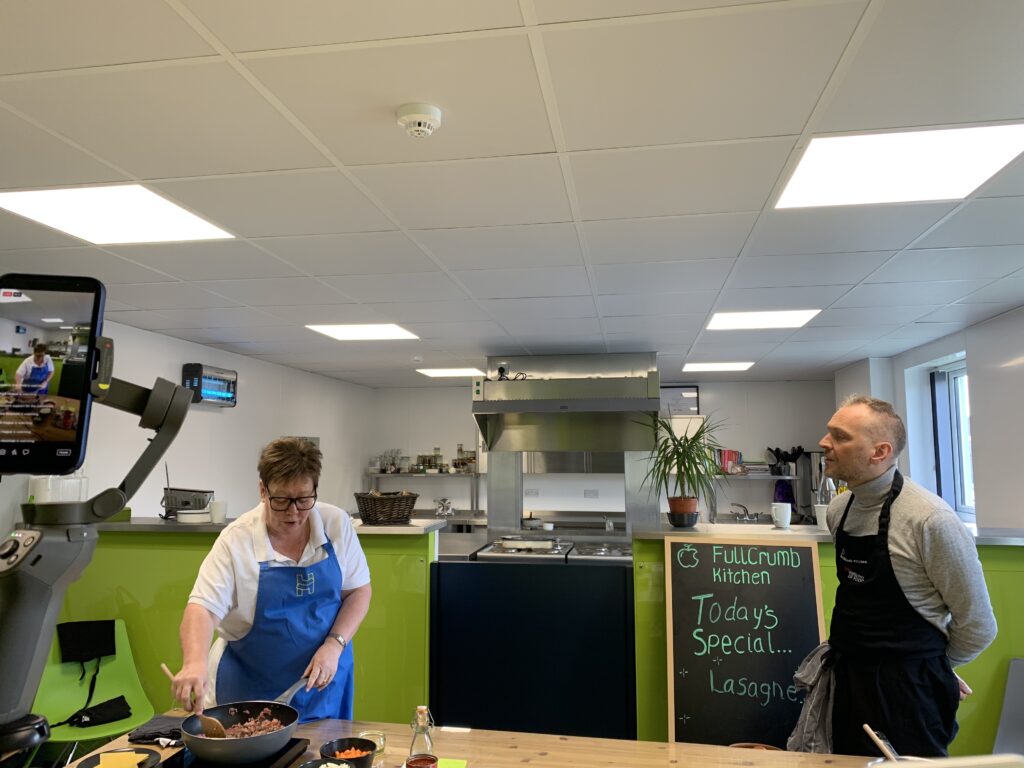 Holbeck Together are one of our Leeds community food members. They focus on community support, activities and resources for older people. Julie covers everything from menu planning, to budgeting, to stock control, to managing the volunteers…and even getting stuck in with the cooking herself.
A scrumptious, hearty lasagne was on the cards for lunch and Chris and Julie got straight into it as soon as the cameras were on.
It began with Julie cooking the meat and vegetables, discussing some of her own handy tips and additions. Chris then began the white sauce and answered some great questions that were sent in by the viewers of the livestream. These included possible dairy alternatives, favourite foods and vegetarian options.
After an informative discussion, with lots of fun added into the mix too, the lasagne was ready to add to the dish and be put into the oven. In true 'TV magic' style, Chris brought a pre-cooked lasagne forward for the cameras to get a close up of.
Julie said,
"I was initially nervous, but I think it went well! Lasagne is a home favourite, as well as a favourite at Holbeck Together. It's a really simple dish that holds so much flavour."
If you'd like more information about The FullCrumb Kitchen, you can follow Chris' social media channels:
Facebook: Fullcrumb Kitchen
Twitter: @fullcrumbkitch
Instagram: @fullcrumbkitch
YouTube: The FullCrumb Kitchen
If you're a community food member that would like to get involved with The FullCrumb Kitchen, please give us a call on 01226 213255.