Hello, my name is Tom and I am a volunteer driver at FareShare Yorkshire. I volunteer four times a week and enjoy every minute. I get a first-hand insight into how FareShare works and see the true impact on how the provision has an impact on individuals.
I volunteer with FareShare Yorkshire because not only do I have a lot of time on my hands, but I really enjoy being out and driving.
There are lots of charities out there with powerful mottos and missions, but I think FareShare really stands out from the rest.
It's unbelievable that children out there are still hungry, it shouldn't even be in conversation. I also can't believe that there's still such a thing as food waste. Food is needed, why waste it?
FareShare takes these two negative things and turns them into a positive, providing surplus food to our CFM's for them to cook, give out or turn into food parcels.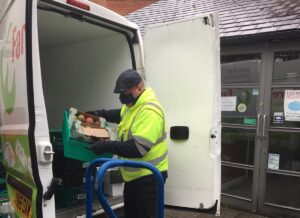 I come to the warehouse at 8:45am and witness the whole operation. The loyal volunteers begin to load the vans ready for the day ahead, I give them a helping hand when needed. Once the van is loaded and has been checked, I begin my deliveries.
I come across many different organisations during my time delivering, from schools to care homes and from community groups to charities; each of them having a deep, wholehearted purpose for using our service.
I recently spoke to a teacher who regularly accesses our food provision with regular deliveries by myself. She says that during the pandemic, the demand never dipped…and I agree. The demand from the beginning of the pandemic to now has simply not changed and I don't believe it will. Certainly not for a long time yet.
The CFM's who receive the deliveries are always so grateful. I'm very hands-on with deliveries, often offering to bring the food into the building if it is suitable for me to do so. That face-to-face contact is key!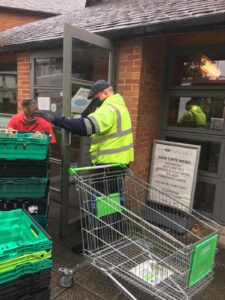 There are many 'hidden costs' with FareShare Yorkshire, that individuals don't necessarily know about. Fuel and van costs are just a portion of what donations go towards. Warehouse equipment, PPE, vehicle repairs…all of these things are absolutely key to ensure the operation goes smoothly.
From someone who witnesses the operation from start to finish, I can wholeheartedly say that the donations make such a big difference. Not just to our team or the CFM's, but the individuals who are accessing this food. For some, it's their only hot meal of the day…the first 'food shop' they have received that month…the first time they have had breakfast since they can remember…it's real lives, real people and real support that we offer.