Canterbury Nursery School in Bradford have been a community food member with FareShare Yorkshire for over 6 years. They are located within a community often experiencing high levels of need, so where possible, tailor their support to each family.
The nursery also specialises in working with children with complex needs, from learning difficulties and varying degrees of autism, to those with life limiting conditions and some who are on palliative care.
The provisions available for the children are second to none with indoor and outdoor play, as well as learning facilities. The children are all supervised by a staff and volunteer team, with many parents deciding to come back and volunteer when their children finish nursery.
They have a firm belief that the area in which the nursery is located should not affect the ambition of the children, so they continuously work hard to instil this before they go to school. They do what they can to break down social barriers.
One parent said;
"I began volunteering here to show my thanks to the nursery. My son came here when he was diagnosed with autism and they worked with him from a young age, when no other nursery would take him. He is now in his second year at university studying Law."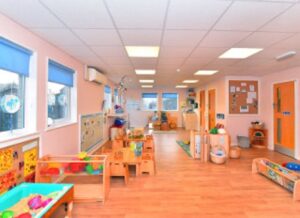 The food delivered by FareShare Yorkshire is used to support the families of children coming to the nursery. Many of the families are struggling financially and the food really helps them. The nursery also work with asylum seeker families who have no recourse to public funds. These families are regularly visited by Charlotte Wood, a family liaison worker, who is able to take them food which helps provide some certainty and stability to families where everything else is uncertain.
Charlotte says;
"In a world where everything is uncertain, our families know that every week we will be there with food for them."
The food that they receive sends a real positive wave throughout the Nursery, whether the parents take food or if it is simply a talking point. The snack-type foods that they get are great for the children, encouraging them to try new things and expand their pallets.
Jacqueline Robinson, Senior Administrator at Canterbury Nursery School, says;
"We see no reason why the children should be held back in life due to the area they are from. Every child that attends the nursery should have the same chance, as any from other areas. This is what we want for our children. We have the expectation that they can go on to much greater things.
"No food coming into us from FareShare Yorkshire is wasted. All of it is either given to the families, or used as snacks for the children. It's great when we get something unusual or different, especially different fruit and vegetables. We are then able to give this to the children and get them to try new things and expand their pallet."