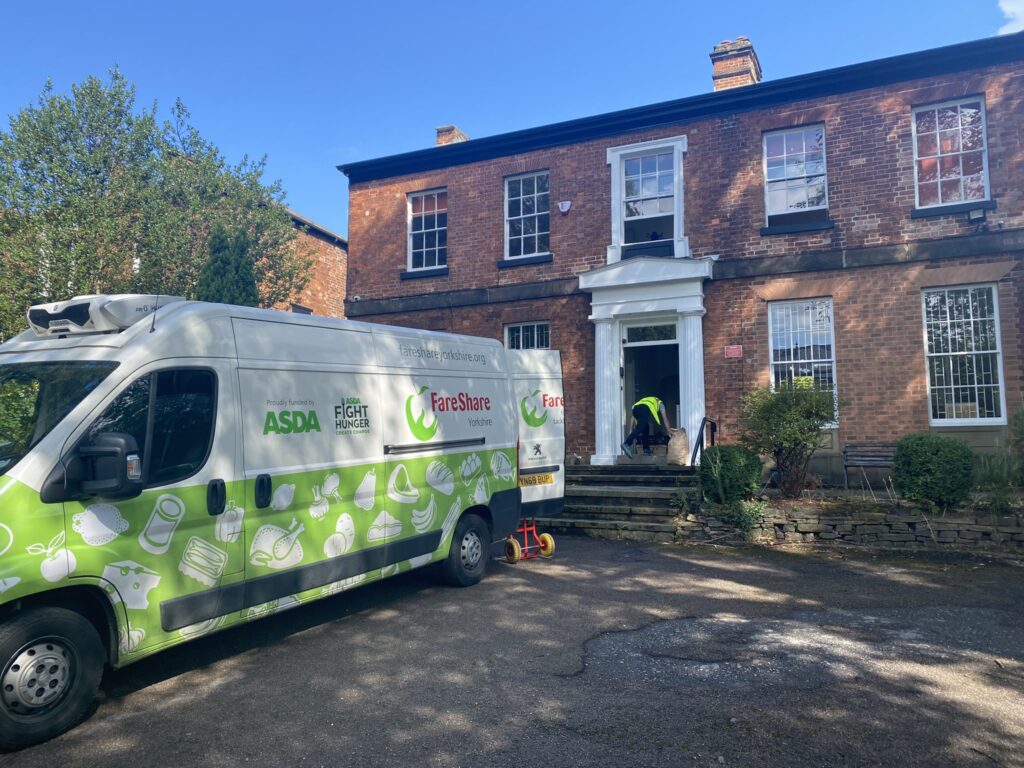 The landmark comes as the waiting list for Yorkshire's largest food charity rises sharply due to the Cost-of-Living Crisis and challenges around access to food.
FareShare Yorkshire has come a long way since the Christmas of 1998 when the homeless charity Crisis decided to pilot a scheme to feed people with surplus food. Nearly a quarter of a century on, the charity has diverted 20,000 tonnes of surplus food from hundreds of companies to hundreds of frontline services. By unlocking the power of surplus food, the award-winning charity currently provides over 400 of Yorkshire's charities and community groups with millions of pounds worth of food each year which they could never otherwise afford in the volumes needed.
The Barnsley and Leeds based charity has a waiting list of 57 charities from across the region as the Cost-of-Living Crisis deepens. At the same time many charities already supported through the provision are in need of more food than ever before. However, the charity remains cautiously optimistic as more food companies join their mission.
"Station House and Rush House in Rotherham, Emmaus Sheffield and Huddersfield Mission are just some of the charities we work with," said Chief Executive Gareth Batty MBE, who has led the organisation since 2013. "To make our one thousandth delivery to not one but all four of these amazing community groups shows the level of demand for FareShare Yorkshire's services and the impact that food can make.".
Last month Gareth met his Majesty King Charles in Leeds alongside other community leaders to discuss the response to the Cost-of-Living Crisis across Yorkshire.
Since 2018, the charity has supplied enough food to contribute to providing 20 million meals. With over 50 dedicated volunteers driving its delivery vehicles and preparing orders, the three centres it operates across Barnsley and Leeds are busier than ever.
"Nothing that we do as an organisation would be possible without the tens of thousands of hours donated by Yorkshire people each year to either drive vans or sort through pallets of food," said Jonathan Williams, its Head of Development. "The same can be said for our generous food partners who donate their surplus to us so we can collect it straight away for the benefit of charities Yorkshire-wide. When people think of 'food waste' they often picture something substandard but overproduction, cancelled orders and a short shelf life are just
three of the many reasons why in-date food becomes surplus. At that point we partner with companies to turn that problem into a source of support for our communities."
Bettys & Taylors Group is a key example, having donated over 45 tonnes of surplus tea, coffee and confectionary since 2020. FareShare's records show that an incredible 2,139 charities across the UK have benefitted as a result, including 335 in Yorkshire so far.
"Partners like Bettys & Taylors Group have consistently gone above and beyond for us and the charities we serve," said Jonathan. "In the immediate aftermath of the first national lockdown the business donated 10 tonnes of tea to FareShare nationally to support the most vulnerable, and through this year Sarah and her colleagues have been donating not only surplus product but additional tea for the parcels we supply to Ukrainian refugees entering Yorkshire."
Sarah Wells, Community Manager at Bettys & Taylors believes that more businesses should get behind the charity this Winter.
"FareShare Yorkshire do wonderful work in ensuring charities and community groups across our region are supported with food and never more will this be needed than during a cost of living crisis. As a Yorkshire-based business, we are deeply committed to supporting our local community, and we know that this Winter is going to be exceptionally difficult for many of the most vulnerable in our society. By working with FareShare, we know donations will be going to where they are needed the most."
The four charities which have reached this landmark are under increasing pressure as their communities struggle to come to terms with the rising cost of living.
"Since day one, we have never looked back" said Charlotte Williams, Chief Executive at Station House Community Association "The quantity and quality of food always exceeds our expectations and each year just gets better. We now serve breakfast, two-course main meals, snacks and have a pantry, as well as ensuring children get at least one portion of fruit and vegetables daily. Feedback from parents is that they really appreciate the food offerings. They say it has a huge impact on their family budget and that their children now eat a wider range of food. Over the years, we have supported around 10,000 children and their families and that is something that we are really proud of."
Lesley Morgan, Community Leader at Emmaus Sheffield credits FareShare Yorkshire with helping their charity to cope through the pandemic. "During the lockdown, FareShare Yorkshire were our heroes. We could always depend on our regular Thursday delivery," she said, citing the 55 tonnes of food worth an estimated £88,000 at retail which FareShare Yorkshire has provided over the last 5 years alone for the shelter's companions.
If you would like to lend your support to FareShare Yorkshire, the charity is appealing for help this Winter in three ways:
-for more food companies to allow FareShare Yorkshire to collect their frozen, chilled, fresh or ambient foods that have become surplus.
-for more members of the public to volunteer on its vans or in its centres

-for people to consider donating just £1 to FareShare Yorkshire's 'Power of a Pound' Campaign via the website